A Ukrainian refugee family who fled the Russian invasion has been saved from a devastating fire in Spain.
The fire left one victim hospitalized and 12 people in need of treatment at the scene when it hit a house in Boadilla del Monte, near the Spanish capital Madrid, on July 14.
First responders at the scene entered the burning building after the owner confirmed there were people inside.
Civil Guard cops had to grope along the walls and eventually gained access to a room where an adult and two children were cowering in fear.
After covering their mouths and noses with wet cloths, the group managed to get out.
Police said they rescued a total of four people from the burning property, and one was taken to Puerta de Hierro Hospital for emergency treatment.
Twelve people were treated for smoke inhalation at the scene, including eight Civil Guard officers.
After a preliminary investigation, authorities believe the fire started in a nearby home after a battery pack used to power solar panels apparently overheated and exploded.
Due to the high temperatures in the area, the flames quickly spread through the property.
According to reports, the family had fled Ukraine following the Russian invasion which began on February 24.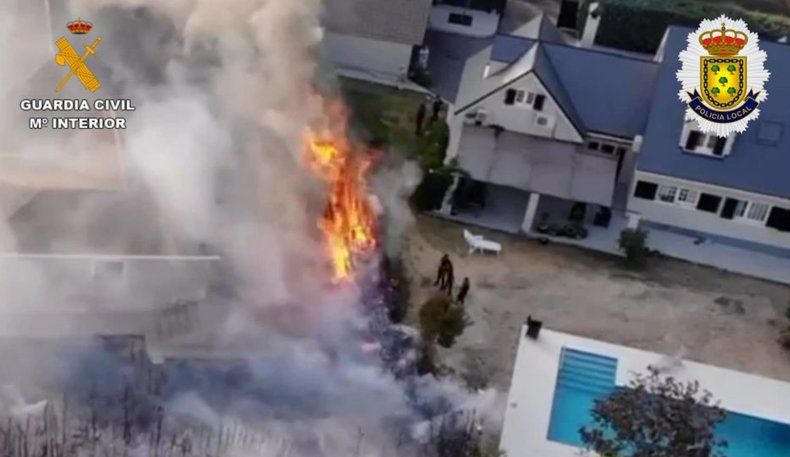 The Civil Guard said: "Last Thursday a fire broke out near a housing estate in Boadilla del Monte, and agents of the Civil Guard and the Municipal Police, together with firefighters from the Community of Madrid, were called to the scene.
"When officers arrived, they met the owner whose land was on fire and the property was smoke filled. After seeing that there were people inside, they entered and were granted access to the first floor amid thick smoke.
"To get there, the officers had to feel the walls and managed to reach the room where two minors and an adult were, helping them by covering their airways with damp cloths and managing to get them out of the house with respiratory problems.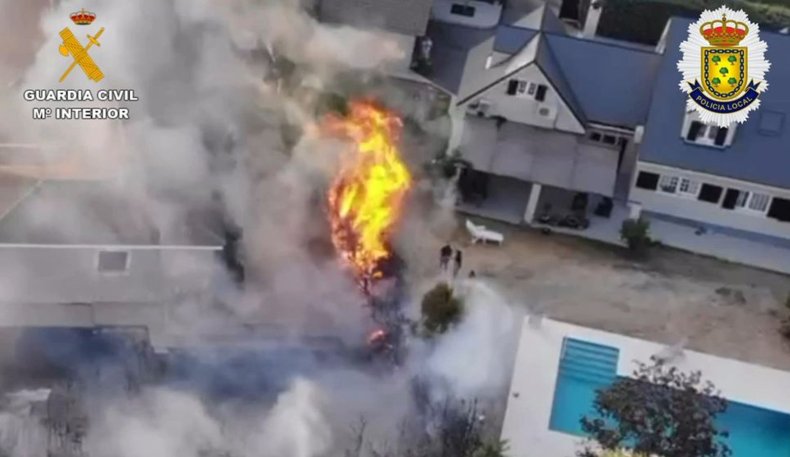 "The emergency services that were sent to the scene had to deal with four people who lived in the affected house, one of whom was taken to the Puerta de Hierro hospital, and eight officers for smoke inhalation .
"According to the inspection carried out by the judicial police team of Villaviciosa de Odon, the fire started in a neighboring house."
The investigation into the house fire is ongoing.
This story was provided to Newsweek by Zenger News.