At the end of last week, Spain and Morocco began a new phase in bilateral relations between the two countries. Greater economic cooperation, new air routes and a warmer political climate are expected. In return, Spain would like to send back to Morocco migrants who do not meet the conditions to apply for asylum.
Spanish government sources said they plan to bring migrants arriving in the Canary Islands, who do not qualify for asylum, back to Morocco if they depart from there. This is according to a report in Spanish on the online newspaper European press. The report was also picked up by Morocco World News in English on April 10.
The plans come just days after Moroccan and Spanish leaders launched a new era of bilateral relations between the two countries, following the suspension of much of their cooperation last year. Spanish Prime Minister Pedro Sanchez told reporters the new relationship marked a "historic moment", the French news agency reported. Agence France Presse (AFP).
New flight routes
Two new air links have been announced between the Moroccan cities of Casablanca and Agadir and the Canary Islands. Although this is to increase trade and cooperation between the two countries, the routes could also consist of transporting migrants who left Morocco to their country of origin if they are found to have entered Spain from irregularly and do not fulfill the conditions for asylum.
The exact number of returns has yet to be announced, but according to European pressone of the new routes, between El Aaiun in Western Sahara and the Canary Islands, could allow the return of up to 80 migrants per week.
In 2021, up to 40% of migrants entering Spain without papers left from the Moroccan coast, 30% left Algeria and the rest came from countries in sub-Saharan Africa, according to Spanish government data cited European press.
However, the number of undocumented migrants entering Spain in March was down from the previous two months of 2022, according to Interior Ministry figures. For the Canary Islands, this means that 3,100 migrants arrived in the Atlantic archipelago in January, 2,302 in February and 431 in March.
Morocco already receives hundreds of millions of euros each year from the European Commission to help it manage its borders and deter migration to Europe.
Tension in Western Sahara
The renewal phase of relations between the two countries follows Spain's approval of the Moroccan autonomy plan for Western Sahara, first presented by Morocco in 2007.
Diplomatic tensions began a year ago when Spain allowed the leader of the Polisario Front, which is demanding independence for Western Sahara, to be treated for COVID-19 in a Spanish hospital.
Brahim Ghali, the leader of the Polisario Front, has been accused by Morocco of war crimes and Morocco considers Western Sahara to be part of the Kingdom of Morocco. Once Ghali was admitted to hospital in Spain, Moroccan border guards appeared to look the other way as more than 10,000 migrants tried to cross the Spanish enclave of Ceuta from Morocco, via the land border and the beaches.
As Sanchez broke the traditional Ramadan Iftar fast with Morocco's King Mohammed VI in Rabat, they both reiterated their willingness to work together in "mutual respect, mutual trust, ongoing consultation and frank and faithful cooperation. ", reported DW.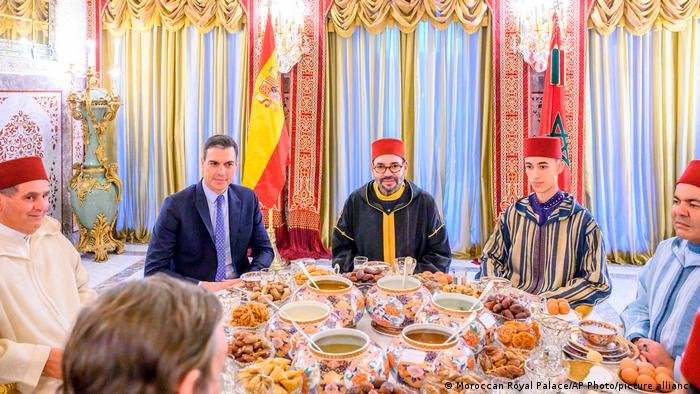 Sanchez criticized
Spain's announcement of support for Morocco's autonomy plan for Western Sahara has radically changed Madrid's position of neutrality on the issue since the 1970s, when it withdrew from its colonial occupation and war broke out between the territory and Moroccan troops loyal to the royal family.
Sanchez's new stance on Western Sahara has been sharply criticized by his left-leaning allies, the right-wing opposition and Morocco's neighbor Algeria, which supplies some of Spain's gas, reports AFP. An Algerian daily Expression described the new position as "a dangerous game designed to escalate tensions in the region". Sanchez was also criticized by some, reported AFPfor not having obtained any firm guarantee from Morocco.
However, further meetings between the two countries are expected to take place before the end of the year to define the new direction that relations between the two countries should take. Working groups will be set up, notably on the control of illegal immigration from Morocco. In return, Spain will increase economic and commercial exchanges, cooperate with Morocco in the field of energy and intensify industrial and cultural exchanges.