Key events
That's all for tonight. I leave you with Sid Lowe's report from Brentford Community Stadium. Ta-ra!
Here's more on the news that Vivianne Miedema tested positive for Covid.
This result means that Germany will play either Norway or Austria in the quarter-finals and England will meet either Spain or Denmark.
Full-time: Germany 2-0 Spain
Peeppeep! Germany won the group of death with a game to spare. They beat Spain in a match that borders on the cliché. Spain passed the ball beautifully and rarely seemed to score; Germany did not and scored twice. It was a masterclass in how to beat a technically superior opponent.
Klara Buhl finished superbly in the third minute after a poor pass from Spain keeper Sandra Panos, and the formidable Alex Popp headed in the second from a corner.
90 minutes Three more minutes.
88 minutes The game is running out of steam. Spain still monopolize possession, but deep down they know it.
87 minutes Jule Brand replaces Klara Buhl, who scored the first goal.
86 minutes Oberdorf is booked for a poor tackle on Athenea. This means she will miss the now unnecessary final group game against Finland. Imagine that!
84 minutes Spain lacks time and conviction. They make another change – Irene Guerrero replaces Mariona, who was excellent in the first half but faded slightly in the second.
81 min: Wassmuth has a disallowed goal. She was played and rounded Panos smoothly, but everyone suspected she was offside and the flag went up as she scored.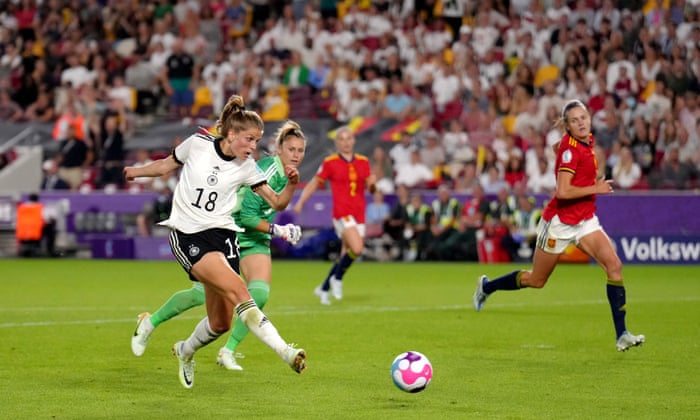 78 minutes Germany barely crossed the halfway line in the last five minutes. But despite all of Spain's territorial dominance, Frohms only had one tough save to make all night.
76 minutes If it stays that way, Germany will win Group B with one game to spare, and England will face either Spain or Denmark in the quarter-finals next Wednesday. Germany would face either Norway or Austria.
74 minutes Germany are starting to look a bit tired, which is not surprising given the heat and the time they have been without the ball.
72 minutes Linda Dallmann joins Germany to replace Sara Dabritz.
71 min: Nice save from Frohms! It was delicious football in every way. Patri looked up and sent an oblique pass over the defense to Mariano. She met him on the run with a formidable flying volley, and Frohms jumped to his left to fend him off.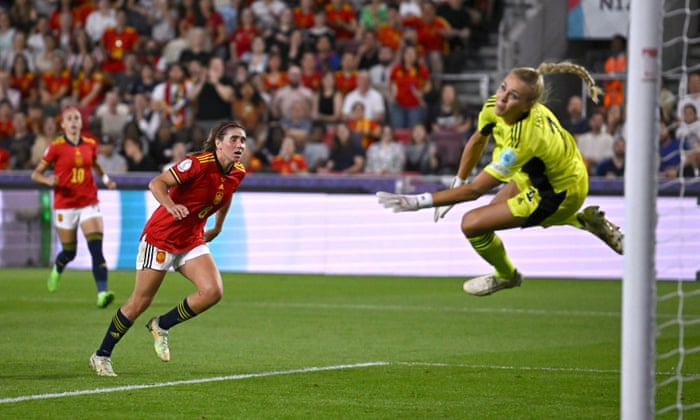 70 minutes A double substitution for Spain. Athenea del Castillo and Marta Cardona replace Sheila Garcia and Laia Aleixandri.
67 minutes Maria Leon's very deep and inswinging corner is headed in by Paredes, who was running away from goal when she made contact.
66 minutes Mariona runs to Hegering, who perfectly times her tackle just inside the area. She had a great game.
66 minutes Spain doesn't have a plan B, don't even think about it.
64 minutes "It looked like an obvious red to me," says Casiano Martinez. "Can we just imagine that it was not given because the German made no effort to engage in the scramble?"
The ref didn't have a clear view, because it came from a quick punt, so I understand why she didn't give it. And perhaps, if we're being kind, it didn't cross the clear and obvious threshold required for VAR to get involved. But eventually Popp was alongside Paredes, who pulled her back by the shirt.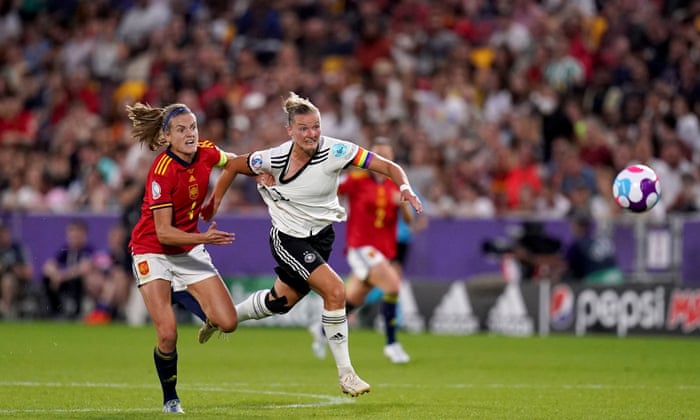 62 minutes And double change for Germany: Tabea Wassmuth and Sophia Kleinherne replace Felicitas Rauch and the brilliant Alex Popp.
62 minutes A change for Spain – Claudio Pina replaces Lucia Garcia.
61 minutes Frohms flies out of his area to make a vital tackle on Lucia Garcia, who was running on a long angled pass from behind.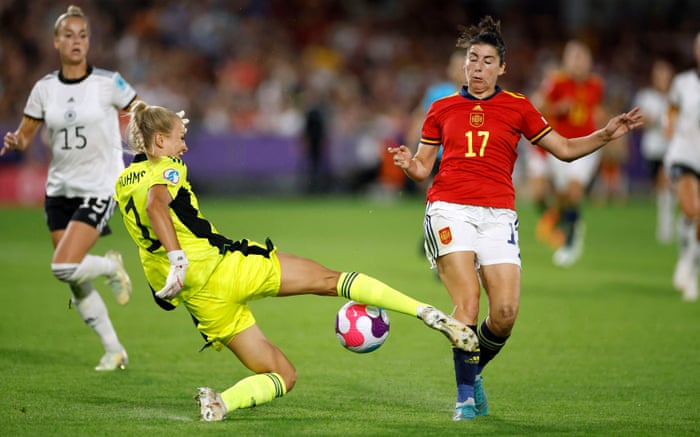 60 minutes We've seen a replay now, and Paredes is lucky to still be on the pitch. She had a good handful of Popp's shirt and, although the referee couldn't see her, I'm surprised VAR didn't get involved.
59 minutes We have not seen a replay of this Popp/Paredes incident. When I saw it live I thought it was a fault, but I'm about 700 miles out.
57 minutes Popp charges on a long ball forward and falls under the challenge of the last defender Paredes. Referee Stéphanie Frappart continues to play and Germany is fuming! Had she given a foul, Paredes would have been off.
56 minutes Spain won three corners in quick succession on the left. From the last of those, Paredes' dangerous header is cleared from a header by Hegering in the penalty area.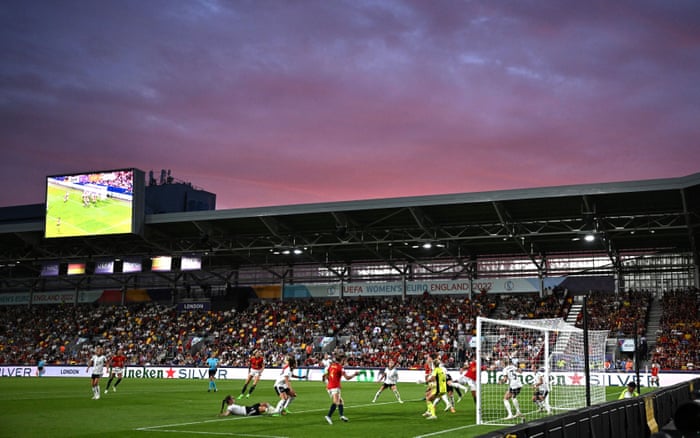 53 minutes Batlle's very deep cross bounces awkwardly past Mariona, who can't control it under the pressure.
52 minutes Lots of possession from Spain, but for the most part Germany is keeping them at bay.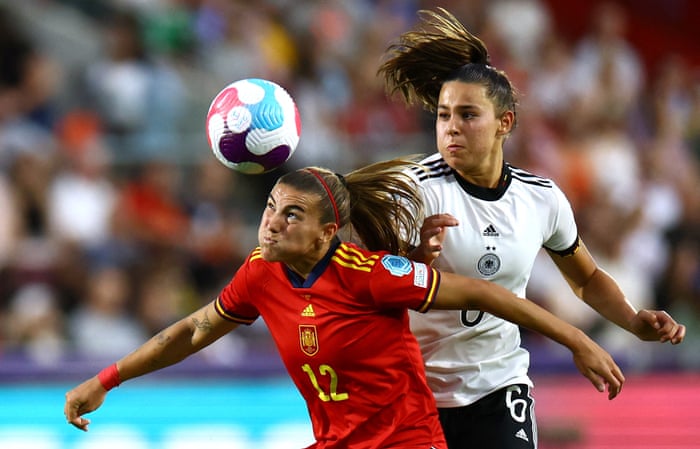 48 minutes Batlle's shot from the edge of the box deflects and lights up the face of goal. Spain started the second half well.
46 minutes A first half chance for Germany, with Popp on a left corner. She overpowered Paredes but couldn't guide the header to the target.
46 minutes Peeppeep! Germany start the second half.
A half-time change for Germany Lena Lattwein replaces Lina Magull.
Reading at halftime
Ruthless, efficient, German: Germany was all of this and more. Spain played well for much of a great first half, but Sandra Panos' horrific error led to an early goal for Klara Buhl, and Alex Popp headed in a second shortly before halftime .
44 minutes Right-back Gwinn wanders upfield, receives possession at the edge of the area and strikes a left-footed shot that deflects wide. The resulting corner is volleyed wide by the blind Huth beyond the far post.