In order to avoid lowering retirement rates, the Spanish government has set itself the task of replenishing its dwindling funds
The Spanish government aims to raise a buffer of 41 billion euros by 2032 to help finance the retirement of the baby boom generation, born between 1958 and 1977.
Those who have worked and paid their social security in Spain are eligible to receive a state pension, but there has been recent concern that the government will not be able to pay pensions in a few years.
This had to be the case for the flow of money to go "in the right direction: increase income instead of reducing pensions", as noted by Mariano Hoya, representative of the UGT union, who added that 'a little effort would be needed to secure the future of pensions in Spain.
National pension spending in Spain from state coffers is growing faster than GDP due to a combination of three factors: the increase in benefits in line with inflation; increasing the number of retirees because people are living longer; and the retirement of workers with better professional careers and therefore higher pension payments.
For expats living in Spain who have a private pension in another country that can be moved to their new home, it is best to seek the advice of a professional financial advisor as Spain's bureaucratic system can be very confusing.
Image: Archives
Address
120 Avenida Dr. Artero Guirao 2C. San Pedro Del Pinatar, 30740, Murcia, Spain.
Phone : +34 657 684 094
Loading
Financial advice issues for expats in Spain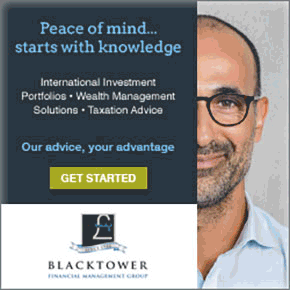 I have been a Qualified Financial Advisor for almost 30 years now. 25 years in the UK for major institutions such as Natwest, RBS and Royal London. I have been giving financial advice to expatriates in Spain for 5 years now and the different approaches and advice required for an expatriate living in Spain are quite remarkable. Blacktower has also been dedicated for 30 years in providing the best solutions to its customers living outside the UK.
The issue of currency is always on the agenda and a discussion of the long-term future must be taken into account. Questions such as What will happen if one of the partners dies? Will the other stay in Spain? What about other family members? What inheritance tax provisions do you have in place? The list is lengthened increasingly.
Existing portfolios and investments that were the backbone of UK portfolios may now be obsolete. An example of this quite often is tax advantageous products in the UK like those from ISA and PEPs previously owned by TESSA in fact have low growth rates and offer no tax benefit to a Spanish tax resident.
Existing pensions paid by the State or private pensions accrued throughout working life are subjects that must be covered. Many expats have many small pensions from many former employers and can be confused by the communications and administration that deals with them. At Blacktower we specialize in advising on how to consolidate and consolidate all of these pensions in one place.
Bank accounts and investments in Spain still raise a lot of questions. Quite often the fine print associated with financial products in Spain is in Spanish which can make it very difficult even if you have a good command of the language. Understanding the jargon in English is sometimes quite difficult. I provide clear and easy to understand letters and documents in English so that you fully understand all the terms and conditions before making a decision.
Equally important is tax efficiency advice and offers good returns. There are products available exclusively for Spanish expats that can provide invaluable benefits. Having a good basic knowledge of the current and future tax implications is an essential ingredient in making a good decision.
I will conduct a thorough fact finding, ask you the right questions, establish your individual needs, your attitude to risk and your ability to lose and desired returns before providing you with a written report full of advice and my recommendations in plain English. . You will then have time to read and consider all the information before contacting me to tell me how you want to proceed.
Click to more info on Keith Littlewood.
The above information was correct at the time of preparation and does not constitute investment advice and you should seek professional advice before embarking on any financial planning activity.
Blacktower Financial Management (Int) Ltd is licensed in Gibraltar by the Financial Services Commission (FSC) and is registered with both DGS and CNMV in Spain