While VCs and investors favor an experienced, team-based approach to building teams when it comes to the startups they support, the Spanish ecosystem is seeing the phenomenon of "solopreneurs" flourish. According to the "2022 Entrepreneurship Map", developed by South Summit in collaboration with IE University, solopreneurs represent 6% of startups in Spain. As the term originated in the United States suggests, solopreneurs work independently and do not hire employees or other team members. This type of entrepreneur, which is found mainly in companies in the digital domain, can also be considered as a freelancer 3.0.
Salvador Aragón, Chief Innovation Officer and Professor at IE University, said that "although the team continues to be the constant of the ecosystem, in recent years we have seen how the figure of the 'solopreneur ' has grown, showing us the great capacity for the democratization of the ecosystem, which has a great diversity of professionals".
This year's South Summit Entrepreneurship Map analyzed the state of the Spanish entrepreneurial ecosystem and compared it to other regions, focusing on how its behavior has changed in recent years. Among its findings, the report also highlighted that 60% of Spanish startups normally have between 2 and 3 founders, while 35% have more than 4.
The probability of success of a Spanish startup increases if its founders have greater experience. While the percentage of sales of a project created by new entrepreneurs is less than 20%, this rate exceeds 70% among those who have created more than four startups.
What does the Spanish entrepreneur typically look like?
According to the results, they are mostly men (80%), aged around 33, and with an impressive academic background (the majority have a university degree, 70% have a master's degree and 16% are entrepreneurs with a Ph.D. ). In addition, they present significant previous professional experiences, with more than half having worked in a company before creating their startup, 24% already have an entrepreneurial project in their CV and 7% have been employed in a startup.
The integration of women into the ecosystem continues to be an issue globally. The report identified that 6 out of 10 startups are founded solely by men and only 6% by women. Yet in Spain women entrepreneurs represent 20%, slightly above Europe as a whole (17%) and below North America (21%) or Latin America (24%) .
The data was extracted from more than 3,600 projects registered in the startup competition of the latest edition of South Summit Madrid 2022, in which 75% of the evaluated projects are international.
Following the trend of previous editions of this report, the serial entrepreneur has also remained a constant in the ecosystem, with 62% of entrepreneurs having founded more than one project in their lifetime, an increase of 2% compared to 2021, this which shows how the ecosystem itself is a source of talent.
María Benjumea, Founder and President of South Summit, assured that the data from the Entrepreneurship Map is the verification of the professionalization and growth of the innovation ecosystem in Spain. "The maturity of the ecosystem is proof that we are witnessing an unstoppable phenomenon, and excellent news because it is the key to the growth of our economy."
A growing, mature and diversified ecosystem
The South Summit's "2022 Entrepreneurship Map" confirms the maturity of the entrepreneurial ecosystem in Spain. Spanish startups now see an average lifespan of 3 years, with a positive development compared to previous years (2.7 years average lifespan in 2021, 2.5 in 2020 and 2.2 in 2019). However, this average is slightly lower than that of startups in North America (3.04 years of life), Europe (3.19) and Latin America (4.47).
As the lifespan of startups continues to grow and reach similar levels to other regions, the Spanish ecosystem has proven to be increasingly knowledge-intensive and diverse, not only in technologies but also in the sectors. Fintech, education and healthcare represent the top 3 sectors with new and growing opportunities, followed by software development, e-commerce, social impact, agrotech, data and analytics. This year, productivity services and media were also among the top 10 industries in which startups are concentrated in the Iberian country.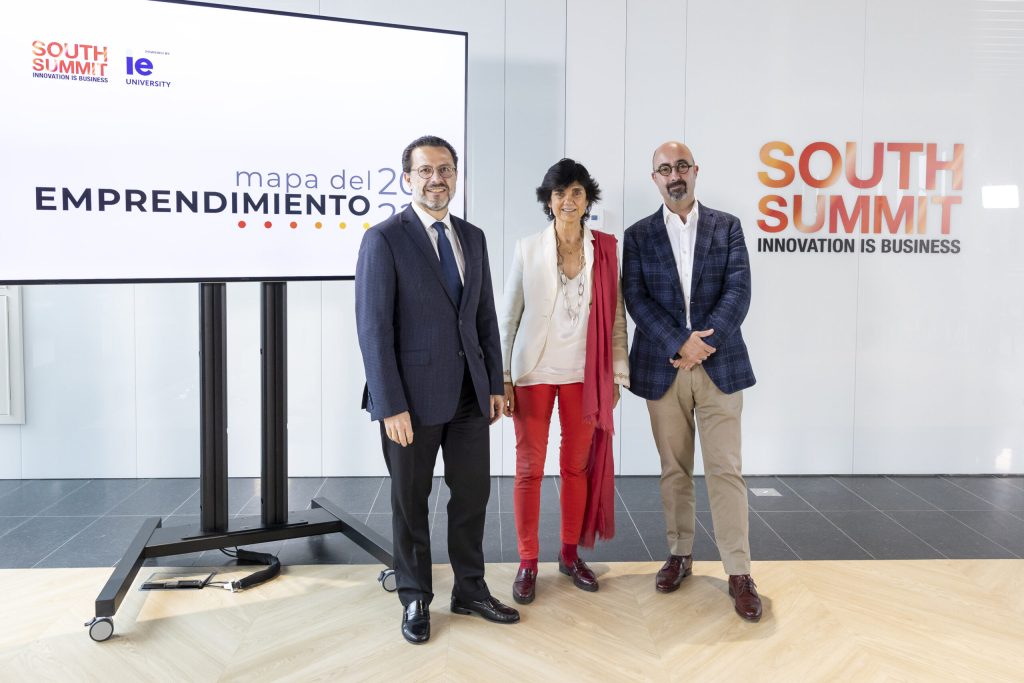 The South Summit report also highlighted that artificial intelligence (AI) industries show great potential for growth in Spain, with AI projects accounting for 16.8% in Spain, compared to 18.8% in Latin America and 22.4% in Europe.
The maturity of an ecosystem is also measured by its ability to generate job opportunities. In Spain, 69% of projects have between 2 and 10 employees, while 26% (9% more than last year) have between 10 and 50 professionals in their teams. Surprisingly, hiring expectations for 2023 are positive even in an inflation-driven economic environment.
Revenues, Funding and Investor Expectations
Nowadays, 6 out of 10 startups in Spain generate revenue, an increase of 11% compared to 2021. Likewise, 11% of Spanish startups exceed 500,000 euros per year and 18% show a positive EBITDA, which represents another 6% increase over last year, and 5% more than in the rest of Europe.
The 2022 Entrepreneurship Map also identified that there had been a significant shift in trends with respect to funding sources. The industry is moving towards an increasingly professional and balanced model, as private funds have increased from 11% in 2018 to 32% in 2022. On the contrary, equity has increased from 60% to 46% over the same period .
With the current global economic situation, entrepreneurs and startups are not only looking for more funding, to gain visibility or strike more strategic deals, but they are also demanding more tax improvements in all regions to attract more business. investors and gain flexibility. when hiring employees. María Benjumea and Salvador Aragón presented the findings of this report at the IE Tower, the new headquarters of the IE University of Madrid. They were accompanied by Javier Fernández-Lasquetty, Minister of Economy, Finance and Employment of the Community of Madrid, and Begoña Villacís, Deputy Mayor of Madrid. During the presentation, the organizers presented the new theme of the Madrid 2023 Summit, Today 2030, which will receive support from the State Secretariat for Digitization and Artificial Intelligence, the Community of Madrid and the City Council from Madrid.